About Us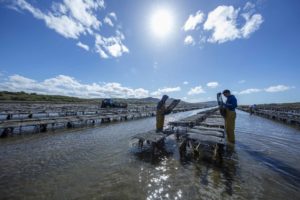 The Diver family have been involved in Oyster Farming for more than 30 years in Inishowen Co.Donegal.
Our high quality oysters are grown in bags on trestles in our 3 mineral rich growing sites across Inishowen, Trawbreaga Bay, Lough Swilly and Lough Foyle.
These trestles keep the oysters above the seabed and provide the perfect environment for the oysters to feed as the tide brings in the natural nutritious food supply of plankton form the Atlantic ocean.
We are verified members of Bord Bia's Origin Green programme, this means we are committed to producing our oysters in the most environmentally friendly and sustainable way possible.
Also as part of BIM's Taste the Atlantic – A Seafood Journey, we have a display in the Doagh Famine village & visitor centre.